 WebRTC Videoconference
WebRTC videoconference at your desk
WEBRTC VIDEOCONFERENCE AT YOUR DESK
Finally there is a turnkey video conferencing system right at your desk. No need to go to the conference room, no need to install any additional hardware or software components.
Wildix ubiconf is based on pure WebRTC. All you need is a web browser - easily participate in a video conference with internal and external users right from your Collaboration web interface or from a Wildix Vision desk phone.
Wildix offers additional equipment to ensure the best user experience in large conference room — ubiconf-Voice, and ubiconf-Huddle for small conference rooms.
ubiconf-Huddle
HUDDLE-ROOM VIDEO CONFERENCING WITH 120° FIELD OF VIEW
ubiconf-Voice – Wildix plug&play speakerphone
FOR BETTER USER EXPERIENCE IN LARGE CONFERENCE ROOMS
ubiconf-Voice speakerphone is specially designed for Wildix WebRTC videoconference and ensures efficient collaboration in large conference rooms.
FEATURES
Plug&Play
Connect to PC via USB
Connect to mobile phone via Bluetooth
Talk time: 4 hours
Three built-in microphones with 360-degree coverage
Reception distance: up to 4 meters
Application: ubiconf conference, Mobile Apps for iOS / Android, Vision, WP600AXX, W-A
USE UBICONF VOICE 2EXTMIC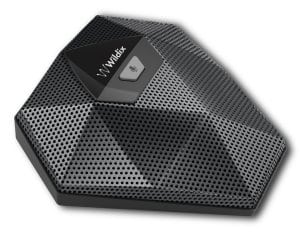 FEATURES
2 wired mics
Cable length: 2m (6ft)
Mute button on each mic
Remarkable voice quality
Microphone type: Desktop
No hardware / software installation
Access videoconference room via the web browser using your PC with webcam and microphone
Add colleagues any time by selecting them from the list of users
Invite external users via email
External users can access via the browser or by calling a phone number, without the need to install any component
Share your desk, documents and applications
Schedule the conference (synced with Google calendars) and receive a reminder via email
Take your time to get ready, the conference room remains open as long as you need it
Invite as many participants as you want: the only limit is your bandwidth
Record video conference, including audio, video and desktop sharing
Go live with YouTube, Facebook
Share a link with other participants to work together on a document or inside an application
Connect ubiconf-Huddle (for Huddle Rooms) and ubiconf-Voice speakerphone (for large conference rooms)
Reporting and analysis of videoconferencing sessions