Online Fax Service
Faxing reimagined
Easy to use online fax solutions.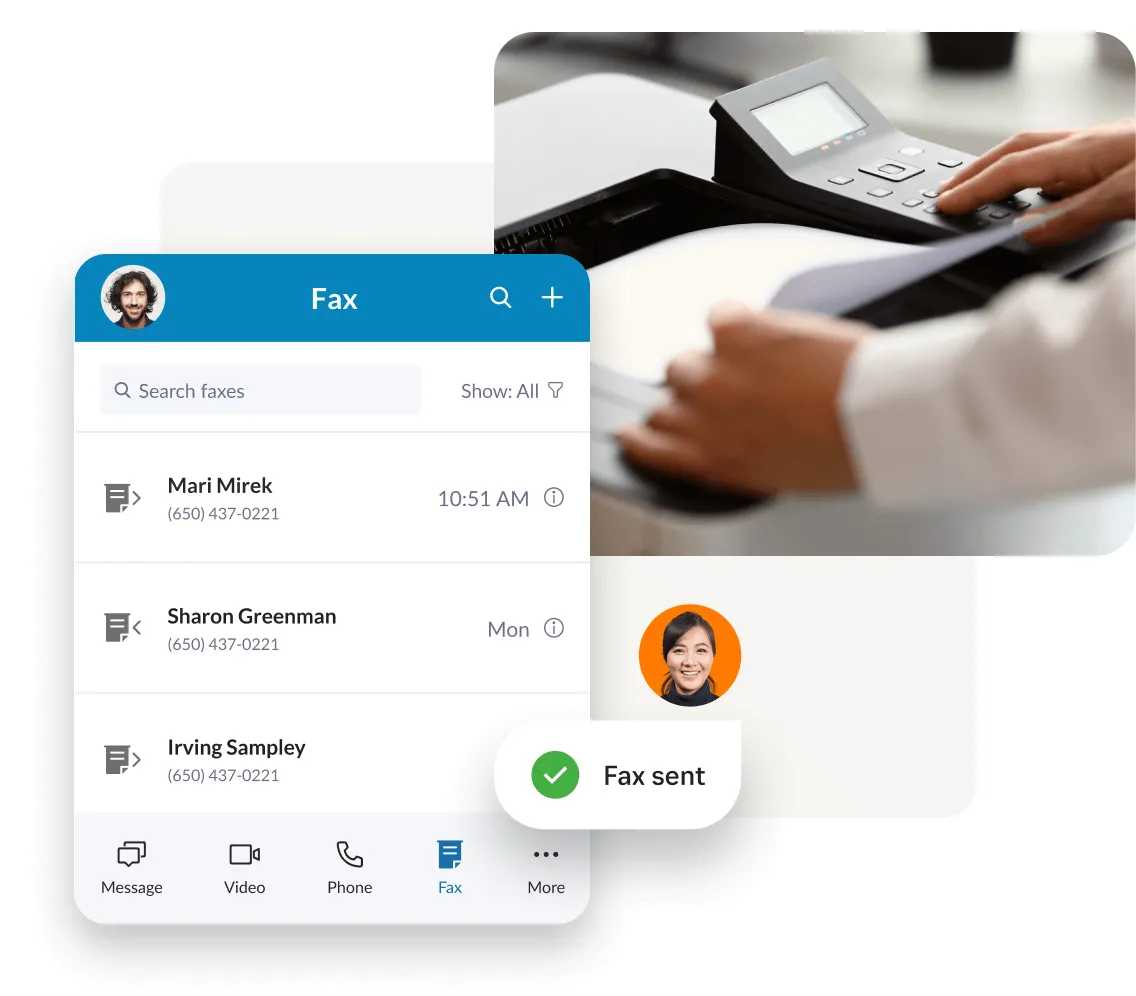 Send and receive internet faxes from anywhere using your computer, tablet, or smartphone. No hardware required.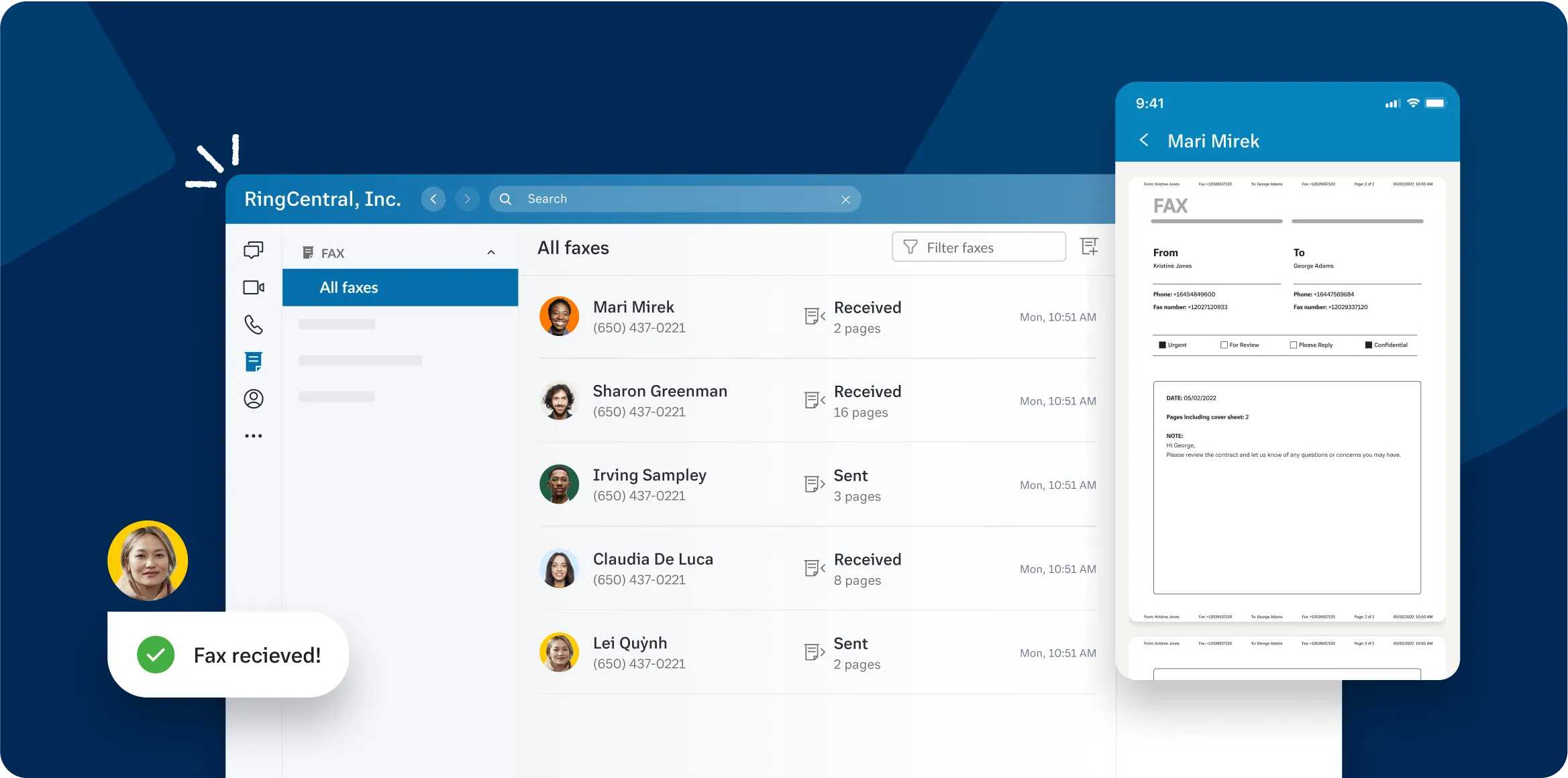 Online fax services that support your industry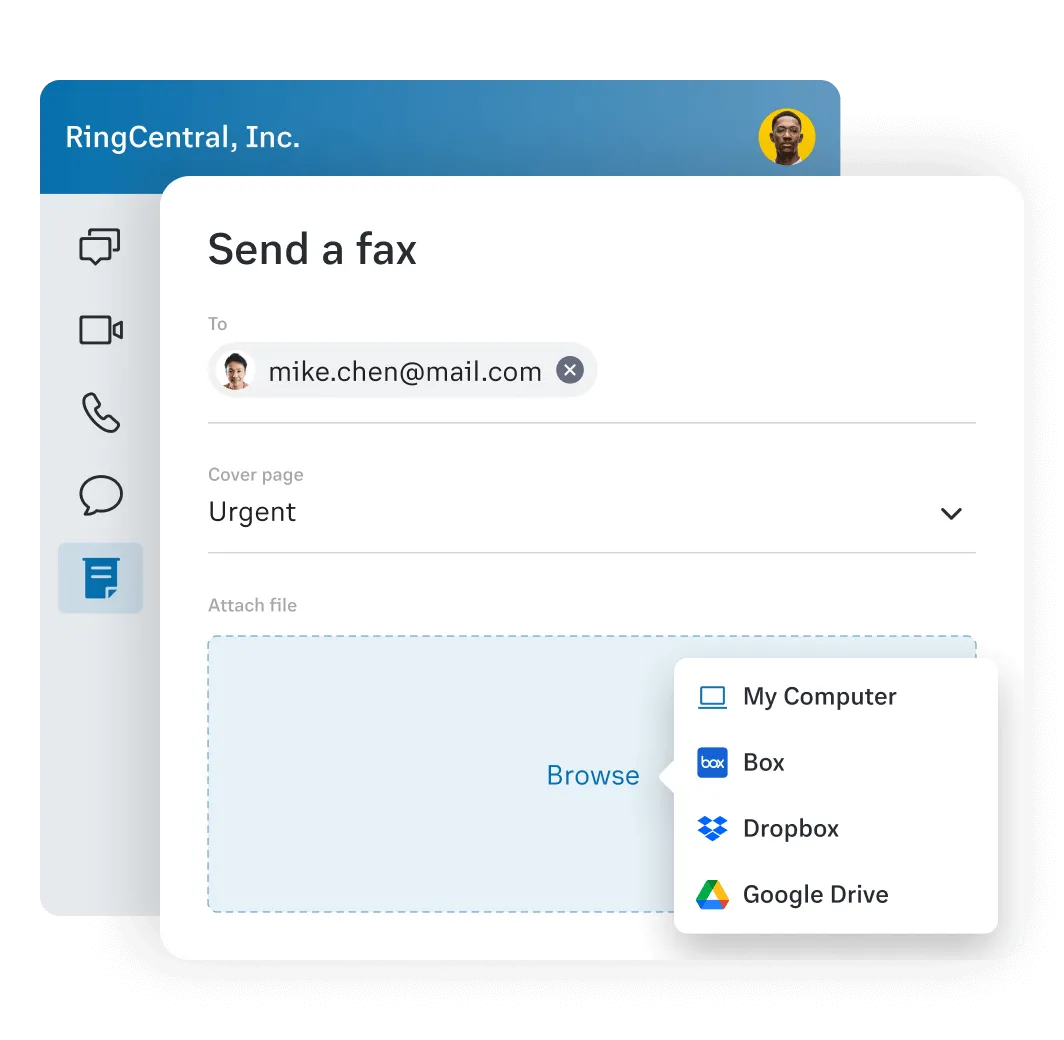 Healthcare
Send and receive urgent prescriptions
Keep patient information safe over a secure TLS encrypted connection
Simple and easy to use for everyone in your organization
Financial Services
Easily submit loan applications and stock transfers
Never miss a fax with helpful notifications
Preview and print faxes and design custom cover sheets
Legal
Quickly respond to key evidence
Send faxes via an encrypted TLS connection
Keep sensitive information safe with password-protection
Real Estate
Easily share and receive contracts
Close deals faster without relying on clunky hardware
Mobilize teams to send faxes on the go
The easiest way to send online faxes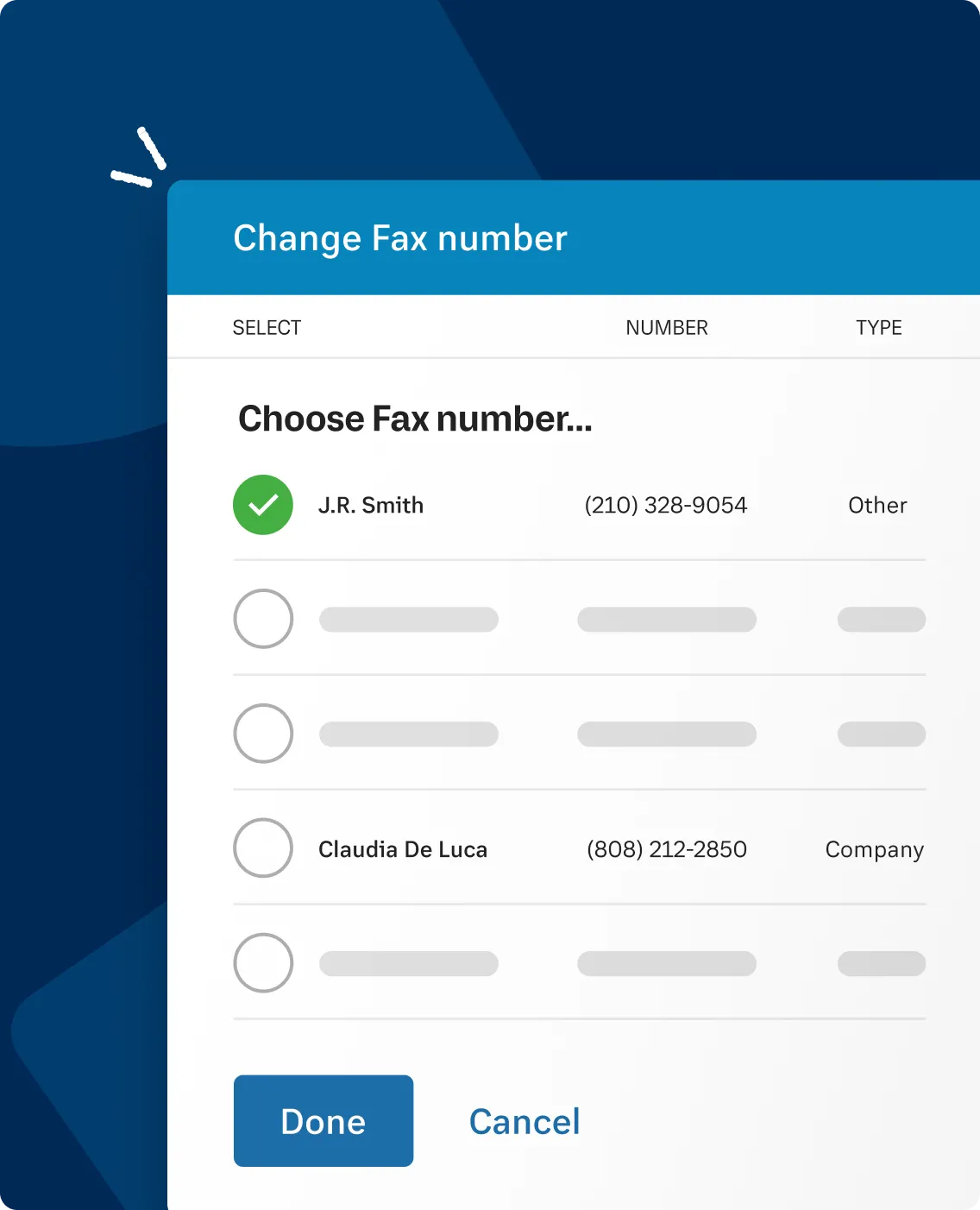 Start faxing in minutes
Keep existing fax numbers or set up toll-free, local, or vanity numbers. Set up and start sending in minutes.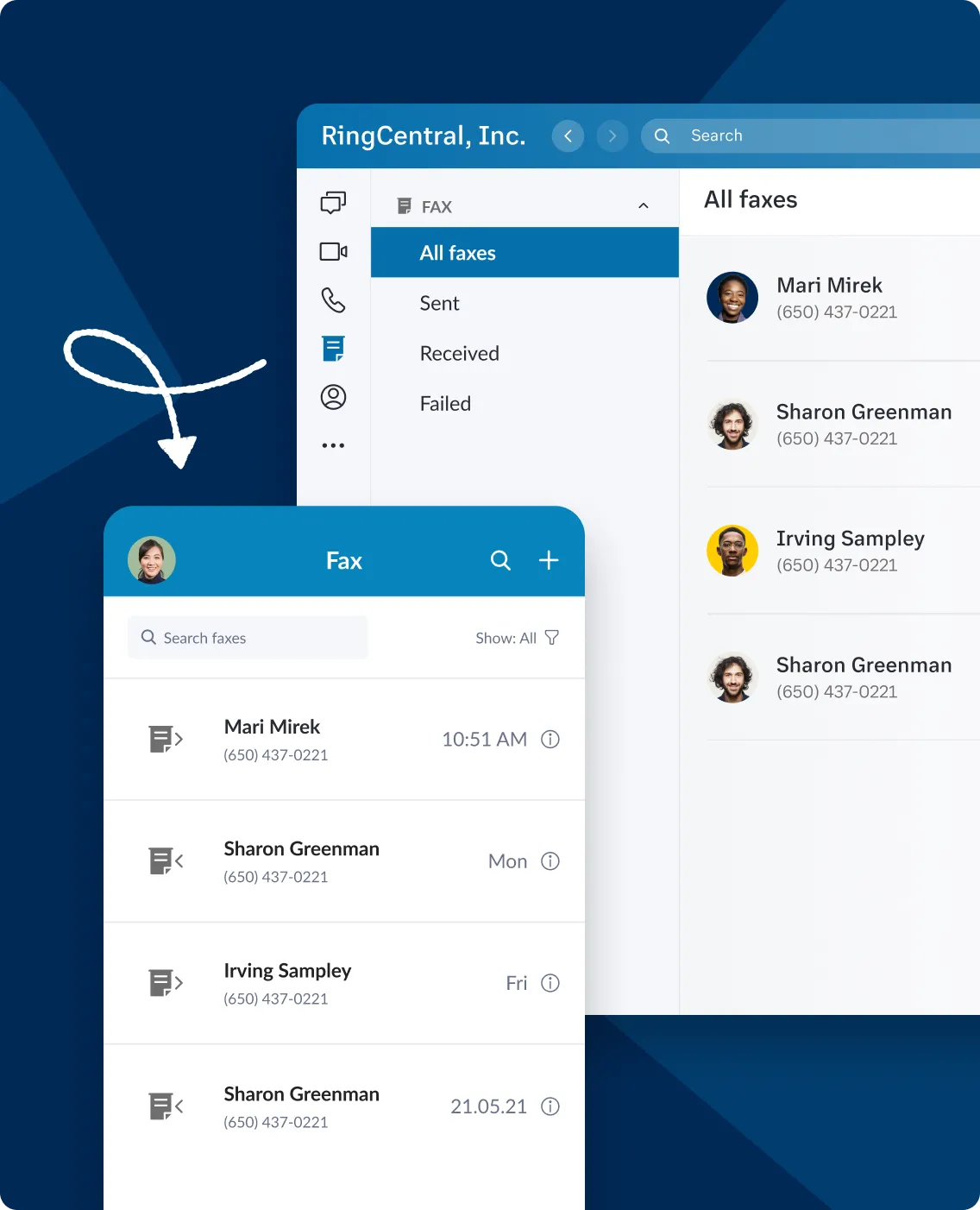 Fax from anywhere
Use your app as an online fax machine. Send, receive, and manage secure and confidential faxes anytime from any device.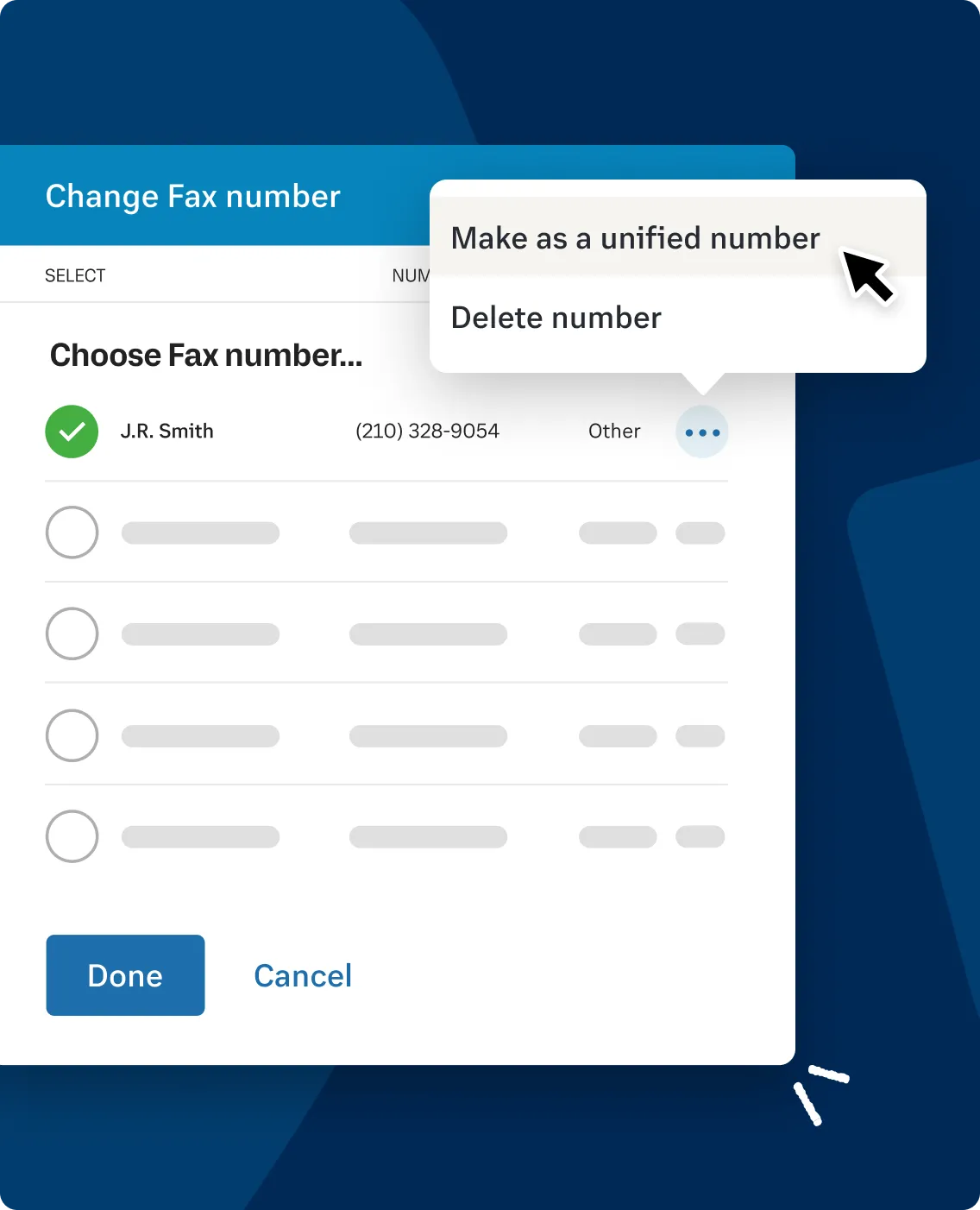 Unified Number
Use the same phone number to receive voice calls, send SMS MMS, faxes, and more.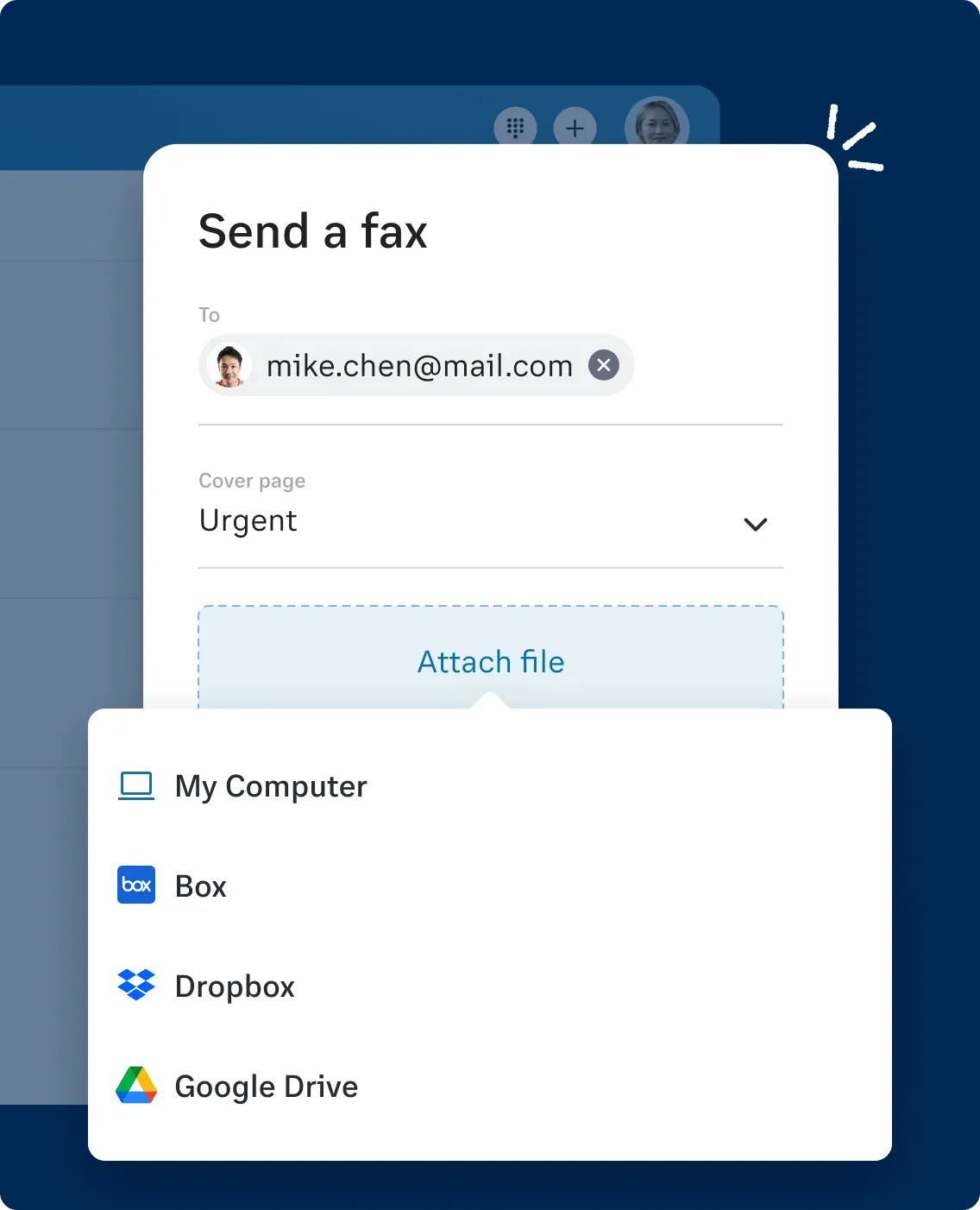 Online file sharing
RingCentral integrates with all the popular cloud storage services like Dropbox and Google Drive so you can quickly grab files from the cloud, attach them to your virtual fax, and send them.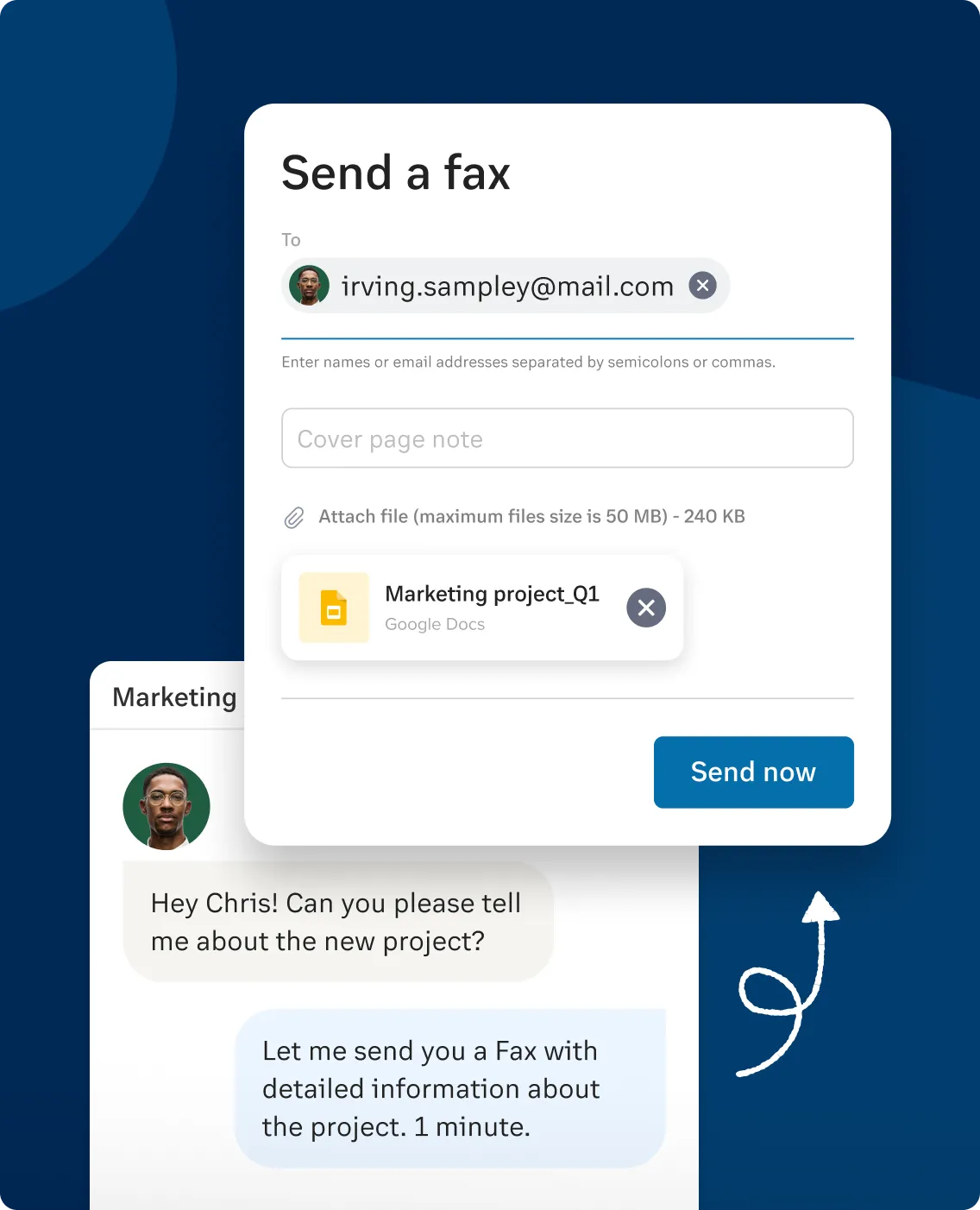 One subscription for all your business communications needs
Calling, SMS, eFax, Team Messaging, Video Meetings, Webinars, and more on the go. No hardware is required; all you need is the app.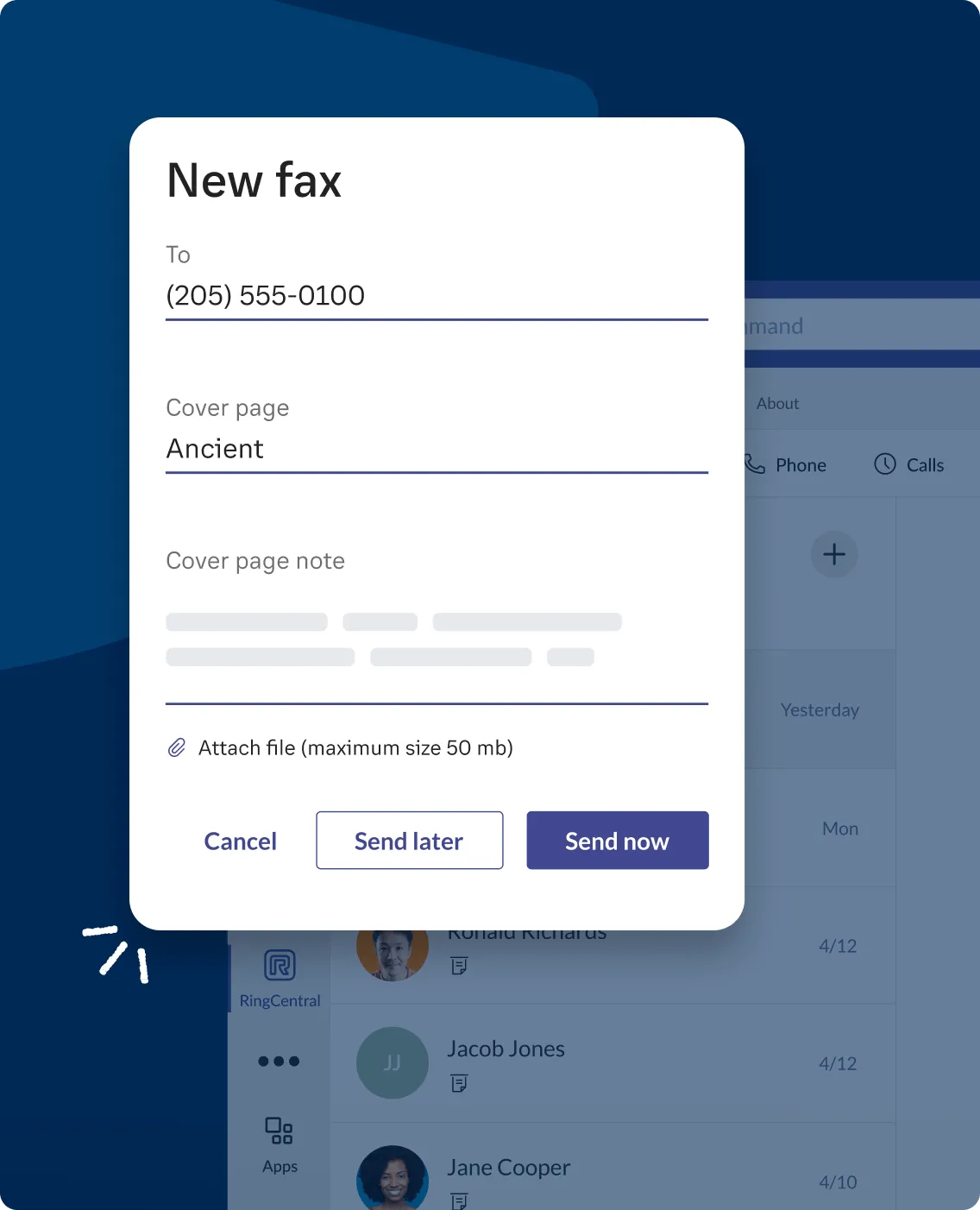 eFax for Microsoft Teams
Access RingCentral Fax capabilities and enjoy all its benefits within the Teams app. No additional Microsoft Teams calling license is needed.
Advanced faxing made simple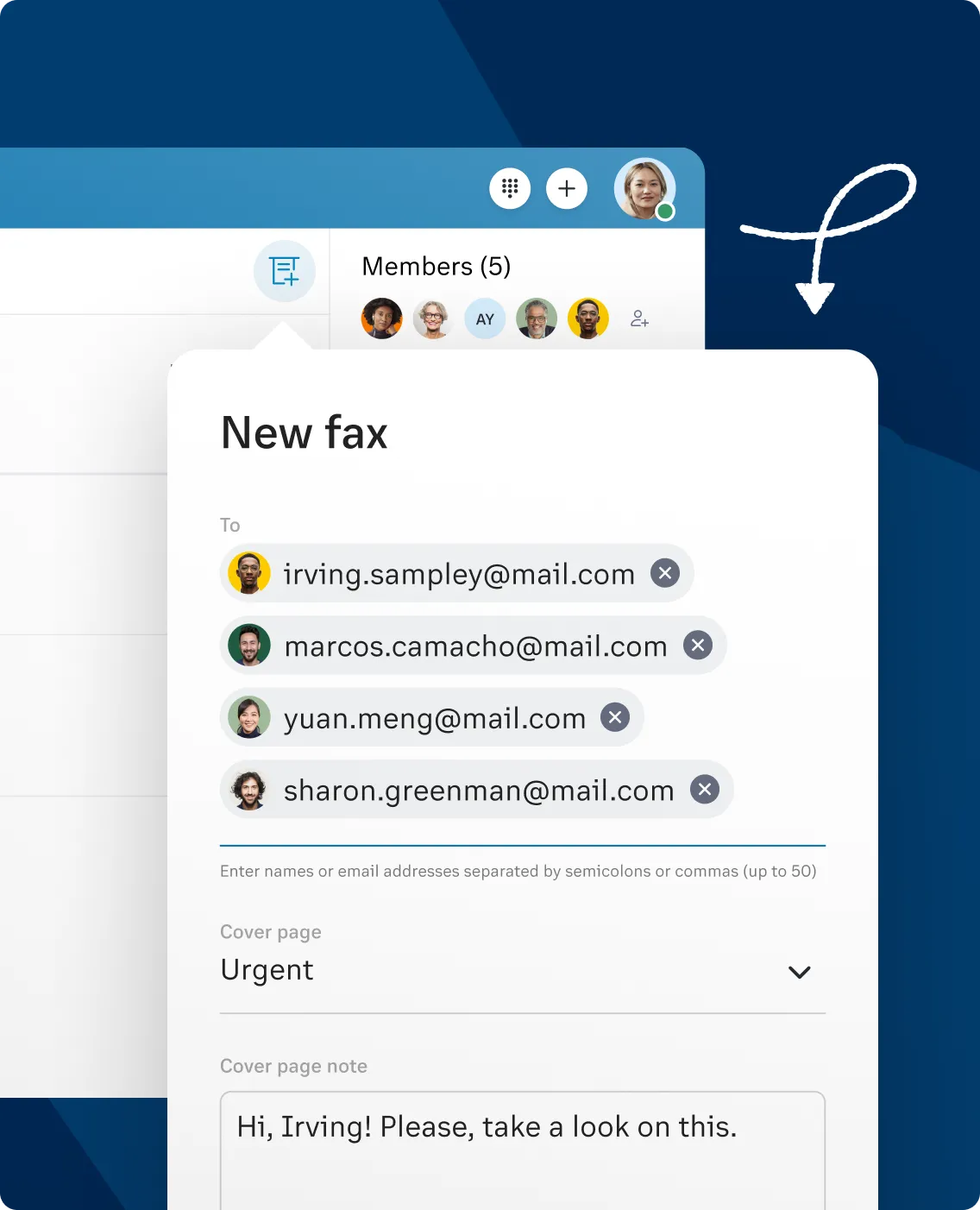 Fax broadcasting
Send eFaxes to up to 50 recipients at a time or enable Fax Broadcasting in case you need to send more.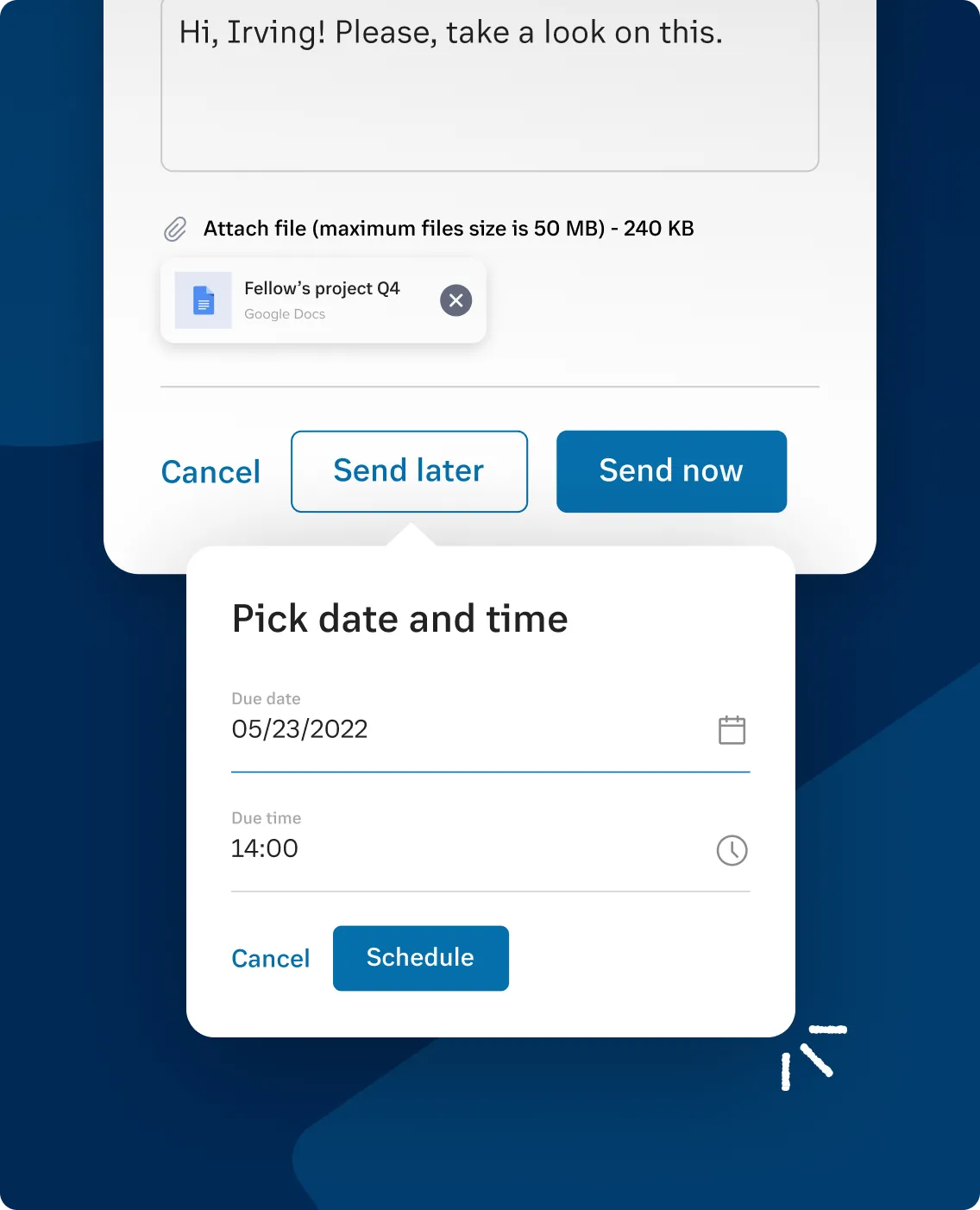 Fax scheduling
Schedule in advance to speed productivity and manage your time.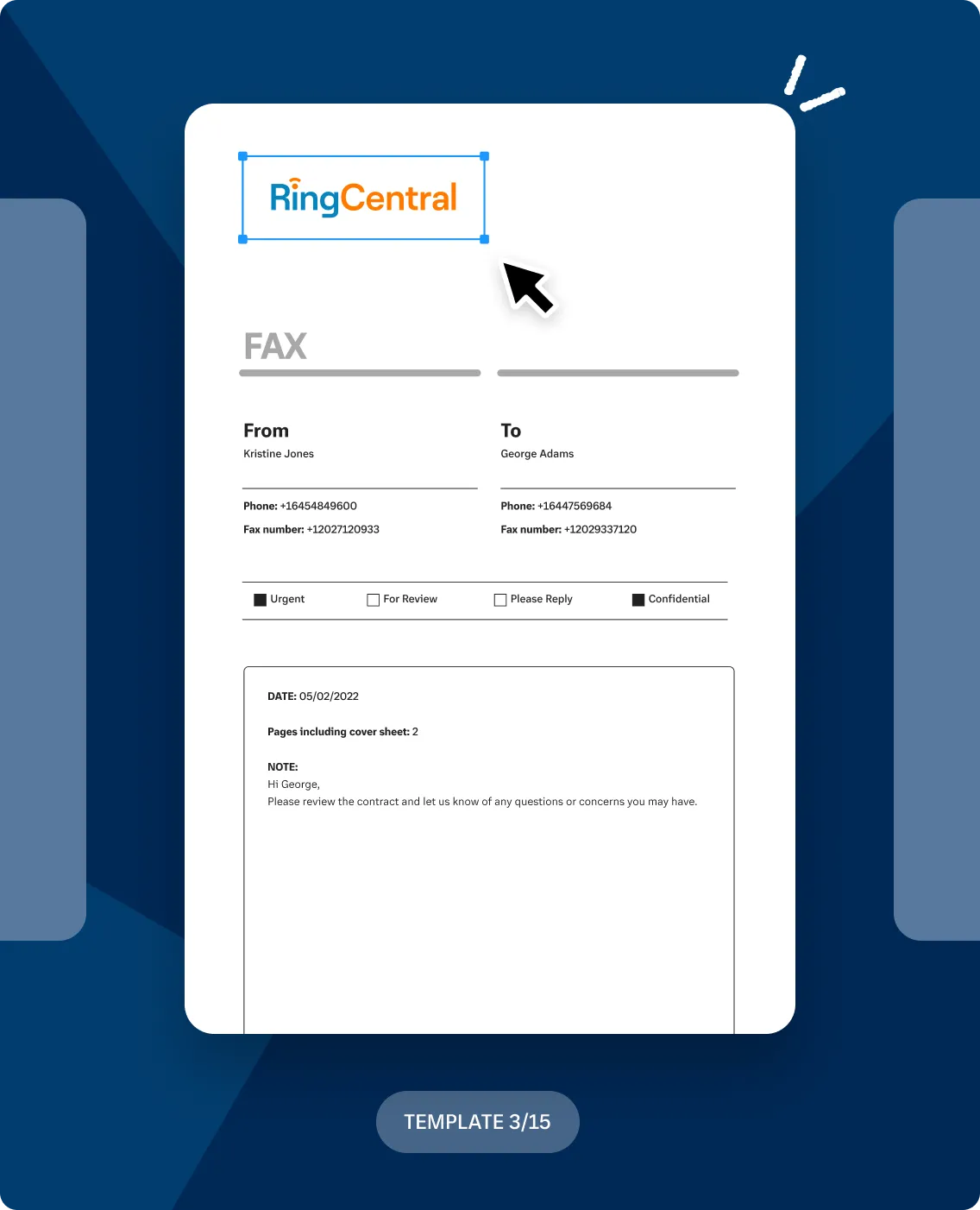 Customizable cover pages
Customize cover pages with templates or design your own. Add a company logo or even a personalized note — you decide.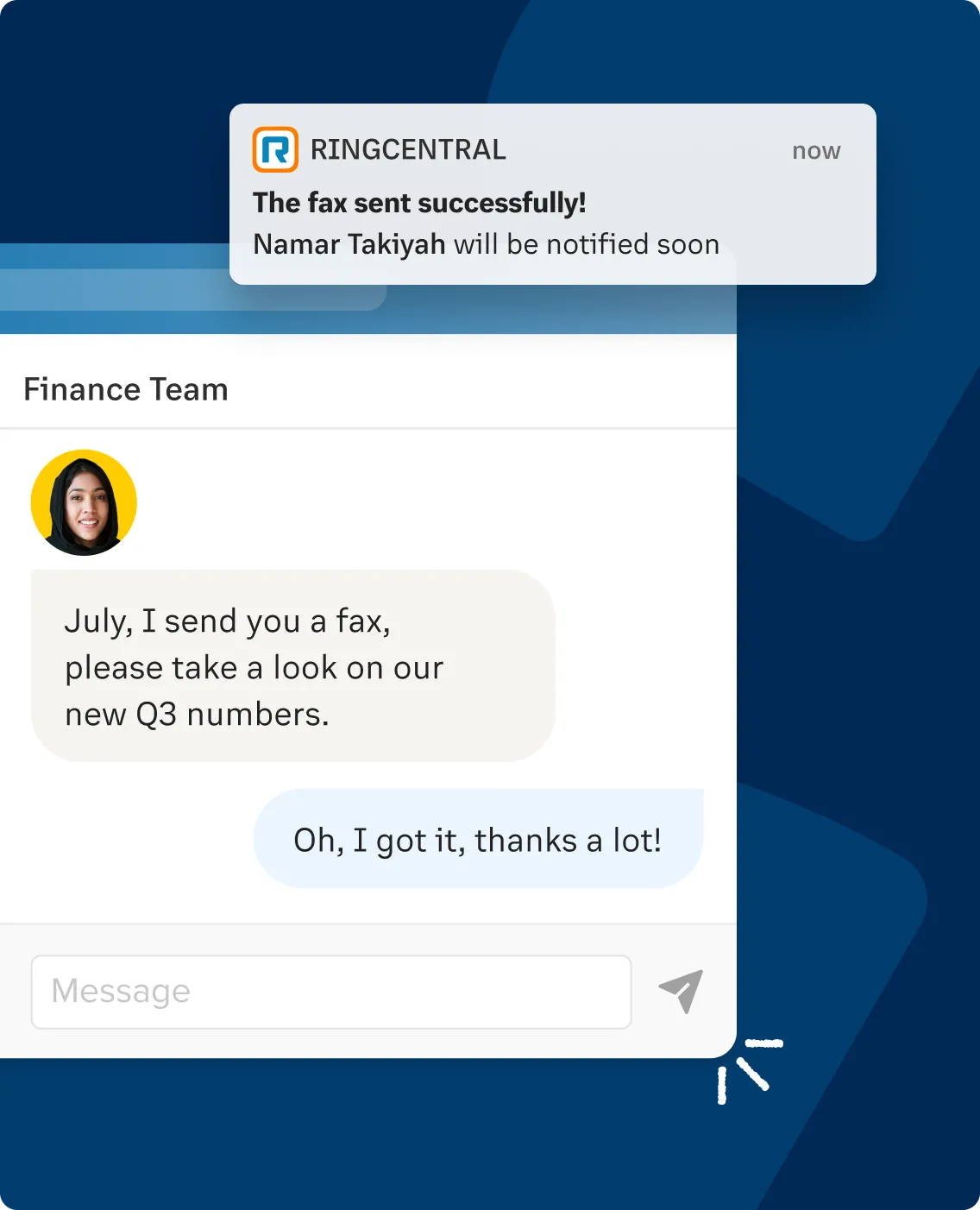 Never get busy signals
Receive faxes simultaneously and get instant alerts by SMS, email, on your computer —even if you're on the phone.
Advanced fax spam blocking
Stop unwanted faxes from coming through with customizable user-level blocking capabilities.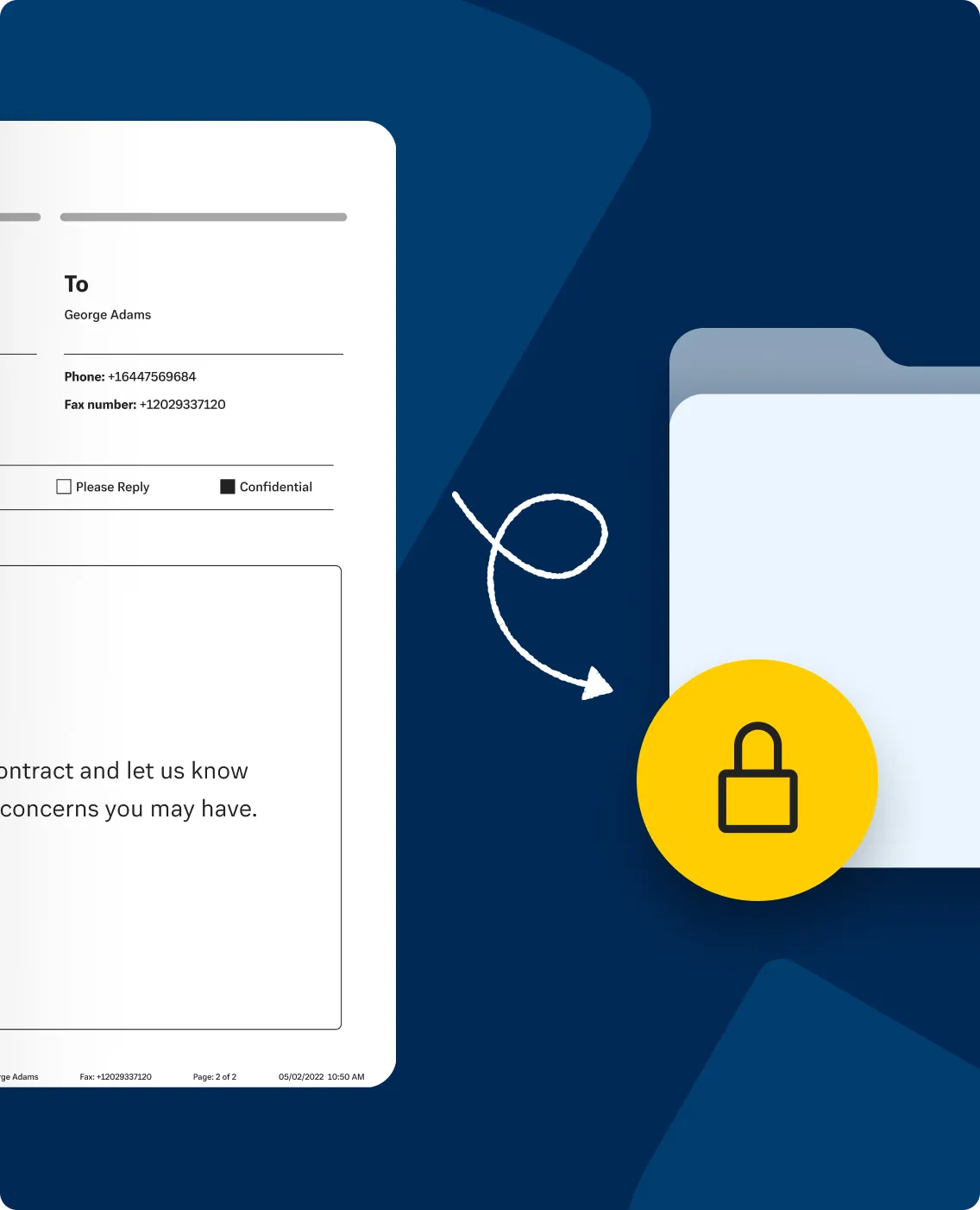 Secure and confidential document sharing via RingCentral eFax
Transmit your faxes securely over an encrypted connection (TLS) and store them in a password-protected account.
Get all the fax.
Dive into the details with our helpful data sheet.
Frequently Asked Questions
Can I send faxes to any machine?
Yes. With RingCentral Fax, you can send faxes to any fax machine in the US or overseas.
How long are my received faxes stored?
Your faxes are saved for an unlimited time, up to 200 faxes, in your online account. All your faxes will also be saved indefinitely in your Softphone inbox.
Can I send faxes from any application?
Yes. As soon as you sign up, RingCentral is integrated with Microsoft Windows®. You'll see a RingCentral fax icon on your Windows applications—such as Microsoft Outlook®, Word, etc. When you click the fax button, your document will be converted to a fax and sent to any fax machine with a US or international number.
Can I block junk faxes?
Yes. As opposed to a traditional fax machine, RingCentral Fax lets you block junk faxes as easily as you block junk email. You'll save time and money on printing costs.
How can I send faxes to multiple people?
In your online account, you can create "groups" of contacts and then easily send faxes to those groups.
Can I also receive phone calls on my RingCentral fax number?
You can upgrade to RingCentral MVP and use your toll free or local number for both fax and voice calls. RingCentral MVP is our complete business communications solution for small businesses and individual professionals.
Like a personal assistant, it will screen, forward and dial calls, take voicemail, send and receive faxes, and alert you to important messages.
How do I choose the right online fax service provider?
When choosing an online fax service, flexibility is key. With RingCentral, our robust faxing system allows you to not only send and receive faxes on the go with plenty of additional features that can keep you and your teams productive.
You also have the option to select our RingCentral MVP plan – which includes online faxing – plus a robust suite of business communication tools like SMS, Team Messaging, Video Conferencing, file sharing and much more.