All of the basic and advanced features you need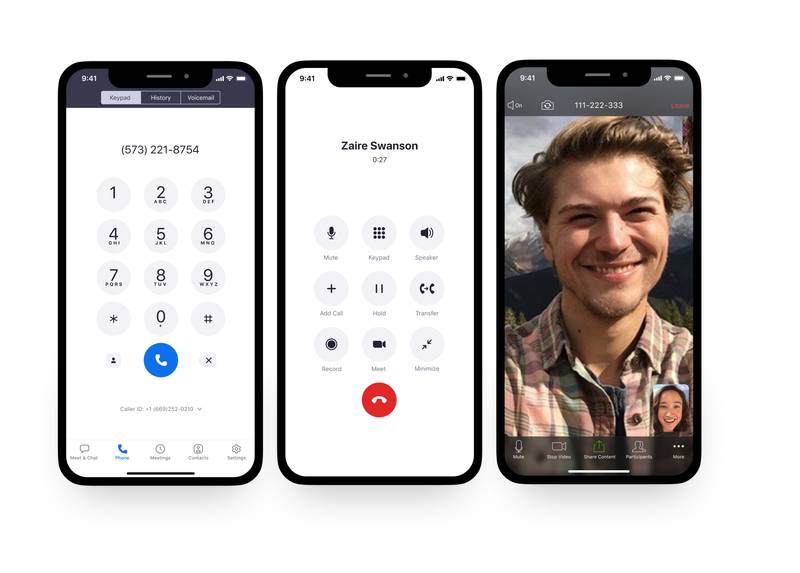 Calling Features
Zoom Phone calling features have been designed to give your users a flexible, mobile, and powerful cloud phone system.
Zoom Mobile App
A single unified mobile application for video, phone, meetings, and chat for Apple iOS and Google Android devices
Zoom Desktop App
A simple to use and completely integrated unified desktop app for Apple MacOS and Microsoft Windows
Call Transfer
Supervised and blind transfer capabilities ensure you can easily route calls to the right person anytime, anywhere
Call Forwarding
Manage personal call handling rules to redirect calls to internal users and external phone numbers
Voicemail
Voicemail transcription and notification allows you to easily manage voice messages from any device
Call Recording
On-demand and full time recording, transcriptions and playback allows you to easily archive and retrieve phone conversations
Salesforce Integration
Native Salesforce.com integration improves productivity with click-to-dial, screen pops, and automated call activity logging
Call Blocking
End users can manage personal call blacks lists to automatically block unwanted calls
Call Delegation
Assign administrative assistants the privilege to make and receive calls on behalf of executives
Call Hold
Easily place and retrieve calls on-hold from Zoom apps and supported deskphones
Call Conferencing
3-way adhoc conference calling allows users to quickly add a third caller to an in-progress phone call
Elevate to Meeting
Seamlessly elevate a phone call to a full feature Zoom Meeting without requiring participants to manually join
Listen (Monitor)
Allows a user to silently monitor a call, such as an assistant taking notes for an executive
Whisper
Allows a user to speak privately to the person they are silently monitoring
Barge
A supervisor who is monitoring can enter the call, and the 3 parties can continue the conversation
Takeover
A supervisor who is monitoring can enter the call and take over the conversation
Call Park
Place a call in park and retrieve it from another Zoom Phone endpoint
Presence
See when a contact is available before calling or transferring a call to them
Shared Line
A delegate can place a call on hold for a manager to to visually recognize and retrieve
Shared Line Groups
Provide member endpoints with access to the group's direct phone number and voicemail
Desk Phone Support
Compatibility with a variety of desk phones from leading manufacturers
Slack Integration
Make calls directly from the Slack user interface
Zoom Phone Administration

Provision, manage, and monitor your cloud phone system from anywhere through Zoom's powerful administrator portal
Calling Plans
Mix and match unlimited and metered calling plans as needed
Bring Your Own Carrier
Power the Zoom Phone cloud PBX service by redirecting existing voice circuits/trunks to the Zoom Phone cloud
Phone Number Porting
Procure new and/or migrate phone numbers from your existing service provider
Device Management
Assign, provision, and manage standard deskphone devices from the Zoom Admin portal
Global Call Routing
Setup and manage business hours, after hours, and follow-the-sun call routing
Auto Attendants
Define unlimited multi-level auto attendants to efficiently route calls to queues, extensions, and voicemail
Call Queues
Powerful queuing capabilities with the ability to define automatic call distribution and queue overflow rules
Contact Center Integration
Out-of-the-box integration to popular Contact Center as a Service solutions from Five9 and Twilio Flex
Music on Hold
Customize the listening experience for your callers patiently waiting on-hold
Call Logs
Track your inbound and outbound calls. View caller name, number, and call duration with timestamps
Quality Dashboards
Monitor, troubleshoot, and diagnose Zoom Phone call quality and network issues
Emergency Calling
Set enhanced emergency calling location addresses and define optional emergency call intercept and redirect rules
Dial By Name
Call a contact by selecting their name instead of dialing a number
Single Sign-On
Use popular SSO solutions to provide secure, easy access to Zoom
Why Choose a Virtual PBX Phone System?
How PBX Systems Work
With a legacy PBX phone system, calls are routed through the PBX, a telecom switch that resides on the customer's premises. The business is responsible for maintaining the necessary hardware on-site. A legacy PBX connects to the public switched telephone network (PSTN) to initiate a phone call. Aside from basic call forwarding, users do not have the ability to use a legacy PBX system when located outside the office.
With a cloud PBX system using VoIP, the PSTN network is interconnected via an internet connection to route the call. That means full phone functionality from anywhere with an internet connection.
Advantages of Virtual PBX
No hardware to maintain
With a cloud PBX phone system, there's no need to maintain or rely on any hardware on premises. That means less hassle of maintaining equipment, and the ability to leverage modern hardware rather than staying with the same phone model for years.
Flexible and agile communications
Businesses depend on a virtual PBX system to deliver flexible communication interactions with customers and colleagues regardless of the location – at the office, working remotely, or even on the go.
Reduced costs
Cloud PBX phone systems provide the ability to use modern devices and because they are software-based, new features can be added frequently.