Applications
iPECS UCS
Optimize Your Business Communications with the Unified Communications Solution
iPECS Unified Communications Solution(UCS) is a powerful multimedia collaboration and productivity enhancing tool designed for the small to large enterprises. Its single server architecture helps SMB's start experiencing the next generation communications solution without investing in enterprise level equipment. The rich features, capability and the ability to integrate 3rd party solutions are well-suited for large enterprises' UC environment.
Features
Audio Call / Conference
Call popup shows caller's information based on CID
Outlook popup shows caller's contact information in Outlook based on CID
Call memo available during a call
GUI Based Audio Conference Manager
Based on built-in audio conference system
Easy conference building by graphical user interface and drag & drop
Features for conference control (Invite / Master change / Mute / Lock / Record)
Video Call / Conference
One-to-one video call from UCS Desktop and Mobile client
QCIF, CIF, 4CIF video resolution
Face to face conference at anytime and anywhere
Max. six party, and eight group video conference (Support only 1:1 on Mobile)
QCIF, CIF, 4CIF video resolution
Ad-hoc Conference
Meet-me conference and e-mail notification
Application sharing during conference
Remote monitoring, Still shot, Recording
Presentation mode(1:32)
Instant Messaging, SMS and Note
Various chatting mode 1:1, 1:N, Ad-hoc, and Meet-me
Inviting others by drag & drop
Packet encryption by AES
Send and receive text message to other internal iPECS system or external SMS users
Leave a note for offline UCS user
Call Control
Instant decision on reachability by status color following traffic signal
Save time and cost through real-time communication with people who available collaboration
Integrated DND setting is available UCS and Phone at the same time
Call control in bound desktop phone on UCS desktop client.
Most call control function can be executed by one click or drag & drop
Answer / Drop / Deny / Transfer / Hold / Park
iPECS Communicator
Enterprise SIP Mobile Client
iPECS Communicator is a software application resident on mobile smart phones running Android and iPhone operating systems. iPECS Communicator is a SIP based softphone for users who need to keep seamless communications with one number either using a mobile or office phone. Basic call features including dial, pick up, hold, transfer and other features such as Short Message Service (SMS), call log, phone book are supported.
Features
Mobile office for business
Business Mobile SIP client
IP telephony, FMC and various UC feature through mobile phone
Client for various user environment (In/Out of office, Home office and Remote smart office)
Various call scenario for mobile office environment
Enhanced features
Call Back, Call Through
VCC(Voice Call Continuity)
TLSv1.0, sRTP, AES/ARIA
Outbound selection
mVoIP, QoS display
Various features with iPECS platforms
Call features : Hold, Transfer, Pick up, Call Forward, DND and more
Outbound selection : Over 3G voice, 3G/LTE data or Wi-Fi voice call
Conference call
Phone book(Contact list) integration and management
Call accept/decline option
Voice mail notification
Call recording to .wav
Enhancing the communication experience
High quality voice engine
Support call from cellular to Wi-Fi network
Cost reduction by communicating through Wi-Fi or 3G/LTE
iPECS NMS
Powerful Multi-Site Monitoring and Management
iPECS NMS is a powerful web based Network Management tool designed for SMB to improve its staff efficiency, permit rapid response to system alarms, and optimize system resources with remote access, usage statistics and automated alarm notification.
Features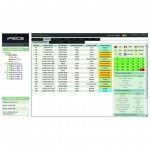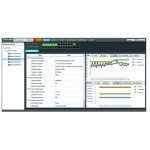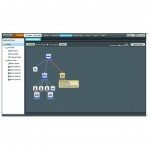 Fault management and realtime system monitoring
iPECS NMS monitors registered systems in real-time to deliver fault and alarm event statistics. The NMS Server generates automatic e-mail alerts of fault and alarm defined as critical by the system manager. In addition, while on-line, NMS Server can be configured to notify the NMS Web client while the manager works on other PC tasks. Managers can thus identify critical issues with monitored systems implementing corrective measures before the faults become service affecting or even noticed by users
Inventory management
iPECS NMS monitors and maintains a list of the resources and components for all registered systems. The list includes the call server, each gateway, terminals and even soft-phones as well as software associated with each system and component. Reports in the form of an Excel file can be generated by the system manager for analysis and inventory accounting within the company.
Web based client access
iPECS NMS employs a Web based design for access to management tools and reports. Clients require no special software; using their browser, managers have full access to NMS services to monitor and maintain registered systems, components and applications from anywhere there is IP access.
Traffic statistics
Understanding system resource usage is an effective starting point in managing a communication system. iPECS NMS monitors registered systems to deliver detailed traffic statistics covering use of the various components and resources of the system. Managers can easily analyze the traffic data to determine under and over usage of resources as well as usege trend and adjust system configurations to address any issues. In addition, iPECS NMS provides detailed and summary data for call accounting and cost allocation.
Remote maintenance
Periodically, LGN releases enhancements to iPECS LIK software that are specifically designed to permit direct upload directly over the network. While simple, the process can be tedious and time consuming. With iPECS NMS the repetitive process is reduced to just a few clicks of your mouse assuring accurate efficient and complete upgrades to multiple iPECS systems and components.
Easy installation & operation
The iPECS NMS application is designed to easily install in a Windows environment. Following the straight forward install shield instructions, the system manager can quickly complete installation. An intuitive GUI permits the manager to register up to 500 iPECS systems to a single iPECS NMS Server. Registering the monitored systems are also managed by easy to use GUI and up to recommended maximum capacity of 500 systems. System managers can access the monitoring system whenever they want to access and wherever they are. Just by opening Internet Explorer on any networked PC, system managers can take full control of monitored systems.
Switch information management
The iPECS NMS enables you to monitor and manage the registered network switches. With Ericsson-LG Enterprise iPECS Ethernet Switch Series, iPECS NMS displays general switch information, board and version information, real-time CPU and memory utilization. All the configuration information including port configuration, port mirroring, VLAN, spanning tree information, LLDP and others are displayed. Those switch information at a glance is very critical for the system manager of IP communication environment.
iPECS ClickCall
Significant change in your office communications
iPECS ClickCall is a smart application used to make communications Simpler and easier when working with a PC. All you need to do is drag a telephone number from any Windows Application such as a web site, Windows document or any application Running on your PC. You don't need to memorize a phone number to make a call from a Desktop phone. You can even reduce the chances of delays or mistakes Made by pressing buttons when making a call in desktop phone. You will be satisfied with the result of a very simple and small change.
Features
Make desktop phone calls from your PC
Support outgoing call
Show dialed call log(10ea)
Setup dialing information
Multiple language support
Exit/setup through the icon in the Windows tray
iPECS Attendant
More Calls, Better Service
iPECS Attendant is the IP attendant console with soft phone function, hotel features and an improved user interface. Based on the iPECS Platforms that integrated with iPECS Attendant, the supported features are various.
Features
Embedded softphone functions
Operating without the need for an external phone
High quality voice communications using PC
Easy to use interface
Optional station field display mode: icon or list type
Intuitive display icons: Monitoring window, Queue window and tool bar
Busy Lamp Field (BLF) and status information display
Local language selection
Shortcut keys for frequently used functions
Pre-selected and customized station status message setting
Station setting modification: station name, COS, Temporary COS, attendant cancel, music selection
Attendant status change: Day / Night / On demand / Weekend / Auto ring / Forward
Simple directory/database management
Local phone book import and export
Database and system component back up to the local hard disk drive
Multiple local database interface
Phone book management: register / edit / delete, 17 database fields, dynamic search / sort / filter
Various options for conducting queries
More productivity enhancements
Internal Text messages can be sent and received
Wake-up call management: Multiple wake-up, Group set, Optional set
Multiple attendants
Trunk monitoring
Making outbound call: keypad dialing, click to call from the phone book, station icon, log view
Superb statistical reporting of all calls
Hospitality features
Check in / out, wake up call, room status, room cut off, etc.
iPECS Attendant Hotel for basic PMS functionality with iPECS UCP / MG
Check-out billing service, Custom billing format
System Information update in real-time (PMS DB sync)
DND service, message service
Room class (COS) setting, Room change